0
May 16, 2013 by itsgosi
In addition to the fresh vegetable & fruit markets, there are a wealth of great restaurants, boulangeries, pâtisseries, and supermarchés in Aix.
Here are a few suggestions for places to eat:
Crêpes à GoGo is an awesome to-go crêpe stand at the end of the Cours Mirabeau (the side near the Rotonde…big fountain & roundabout). It's a little tricky to find since it's underneath the street in a passageway, but look for the entrance by the merry-go-round. They've got great savory and dessert crêpes. My favorites are jambon et champignons and  nutella et banane. (Click here for the address)
Les Deux Garçons is a famous café in town (known as a spot where Paul Cézanne would go eat). It's located off the Cours Mirabeau, and it's a good place to sit outside and people watch.
Uncle Sam is next to Les Deux Garçons, and they serve Ben & Jerry's ice cream! It's known as the American café, and it was my favorite place to go when I felt homesick.
Pâtisserie Béchard is a little pricey, but is one of the best bakeries in town, and it's also located on the Cours Mirabeau. Pain au raisin is my favorite.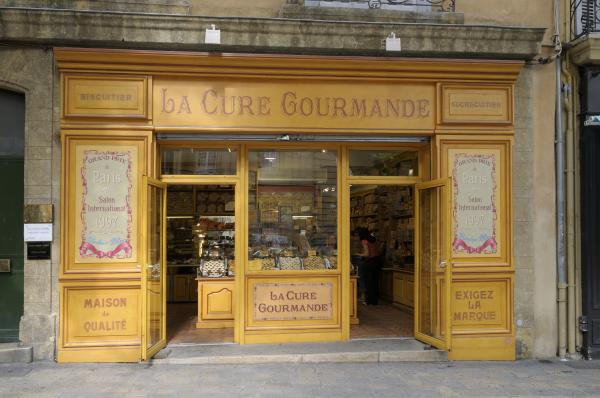 La Cure Gourmande is an awesome cookie and candy shop. It's a chain and there are two locations in Aix…the one I preferred was close to the Hôtel de Ville (Town Hall). They have cute, inexpensive tins that you can fill will candy/cookies. You also should try calissons…they are native to Aix.

Ed is an affordable supermarket where you can buy all of the groceries that you need. There's also an affordable boulangerie (bakery) next door.
(Note: If you want a baguette but don't plan on eating the whole thing, ask for a demi-baguette…translation: 1/2 baguette)
Bon appétit!!
Featured Image: Personal image (Vegetable market in Aix-en-Provence)
Category Go Eat | Tags: Aix-en-Provence, Eat, France
---